[ad_1]

Phoenix – Police are investigating a stabbing that happened during a road rage incident North PhoenixThree people, including a girl, were injured.
Phoenix police sayThe shooting happened on Oct. 27 at 16th Street and Greenway Parkway.
Brian Bauer says the incident started when two men in separate vehicles got into an argument and got out of the car and started fighting in the intersection.
"One of the adult males believed something else was going on, so he took a knife and stabbed the other adult male," said Sgt. Bower.
The knife-wielding man, identified as a 28-year-old man, ran to his black sedan and a woman and an 8-year-old girl got inside.
"As he fled the scene, the older male, who had been stabbed multiple times, pointed a handgun and fired at the vehicle as he fled the area," said Sgt. Bowers.
A clear bullet hole can be seen at the rear of the sedan. Bauer says the 8-year-old girl was in the back seat when Sgt.
An 8-year-old girl was admitted to the hospital in critical condition. The condition of the 48-year-old man who was stabbed is critical. The second person has minor injuries.
Police say that none of the suspects are suspects. No identities have been released. Bauer says road rage disputes call 911 before you get out of your vehicle, Sgt.
"Everybody's going to be frustrated. If you're in a road rage situation, our advice is: stop, park, call 911, let the officers respond, deal with the various parties and find a resolution to your disagreements," said Sgt. Bowers.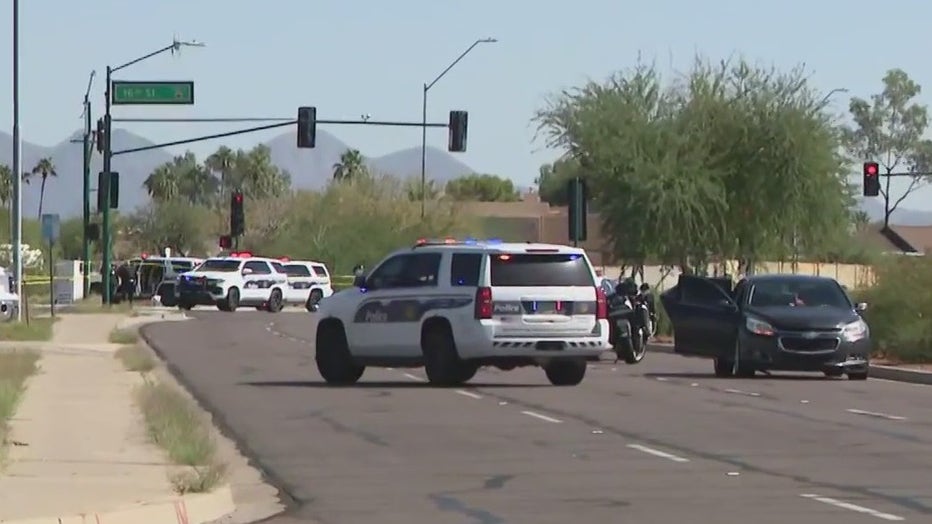 The scene of a shooting investigation near 16th Street and Greenway.


[ad_2]

Source link