[ad_1]

The fifth Indian officer to join the ICS, and the first from Assam, Anundoram Barooah, lived only thirty-nine years, but his achievements were the stuff of legends. Even as a 14-year-old schoolboy in Assam, Anundoram could recite Amarasimha's Sanskrit thesaurus, Amarakosha, by heart. He was educated at the Guwahati Government Seminary (now known as the Cotton College School), cleared the Calcutta University Entrance Examination in 1864 and joined the Presidency College. He graduated in 1869 and also won the Gilchrist scholarship for higher studies in England where he qualified as a barrister as well as the ICS in 1872.
He was also the first ICS officer to become a District Judge, as his predecessors were either relieved, or placed on the judicial side.
UNPARALLELED PROGRESS IN SANSKRIT
However, even when he spent his time in districts like Sibsagar and Noakhali (where he became DM), his devotion to the study of Sanskrit language and literature was unparalleled. Apart from four Sanskrit texts, he wrote mostly in English.
These included Bhavabhuti and His Place in Sanskrit Literature, A (three volumes) English-Sanskrit Dictionary, Advanced Sanskrit Grammar: Gender and Synthesis and Ancient Geography of India. Fortunately, for scholars of Sanskrit and history, the Government of Assam has republished all these works. It is true that the first English Sanskrit dictionary was produced by Sir M Monier-Williams who replaced Max Mueller to become Boden Professor of Sanskrit at Balliol College.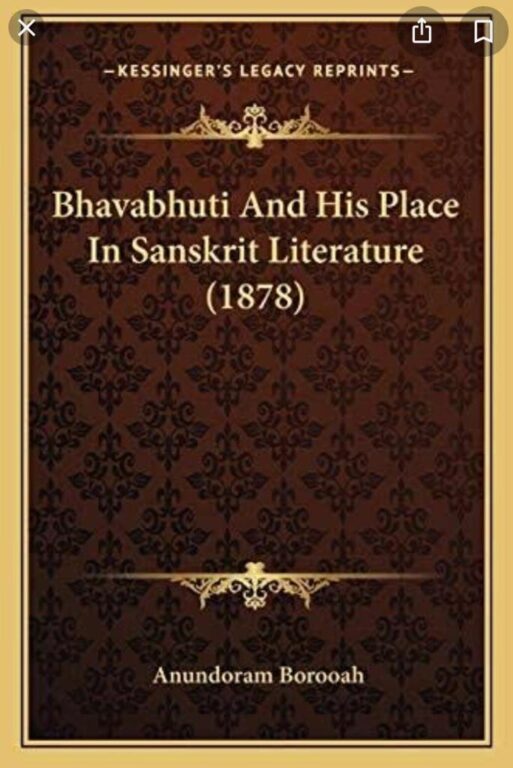 However, Monier-Williams' aim, as indeed Governor Boden's, was to 'promote the translation of the Sanskrit Scriptures to enable his countrymen to continue converting the natives of India to Christianity'. One of the major flaws of this work was its excessive rejection of the work of Max Mueller, who was certainly the most knowledgeable scholar at the time.
SANSKRIT spread to develop literature at home
In fact, this is where Anundoram differs from Monier-Williams. He believed like Abhinavgupta that "Truth, realized by our indefatigable intellect, rises and rises, is the result of the ladder of thought designed by the ancient thinkers."
philosophers such as Sankara and Abhinavgupta, as well as the works of Italian and German Sanskritists. He also hoped that if the Sanskrit language was popularized, it would enable the Indian people to "care for their home literature more than they do now for Shakespeare and Bacon, Addison and Johnson.
Although he completed two of the twelve magnum volumes of Sanskrit Grammar, his writings attracted the admiration of Max Muller. When this bachelor passed away at the house of his best friend Sir Taraknath Palit, there was much mourning. One of them lifted the hood to announce: "Here lies the glory of Bengal in its eternal sleep." A young Assamese boy confronted him, "He is not the glory of Bengal. He is the glory of Assam lying in eternal sleep." This was when an old man from Bengal intervened precisely to say, "No, here is a great man, the glory of India, lying in his eternal sleep."
(This issue was written by Dr Sanjeev Chopra, Fellow, USI, New Delhi, Fellow of the Royal Asiatic Society of GB & I, London, HRA, LMFSAI, Harvard University, Historian, Columnist, and Festival Director, Valley of Words Literary Festival International, Dehradun www.valleyofwords.org)
[ad_2]

Source link